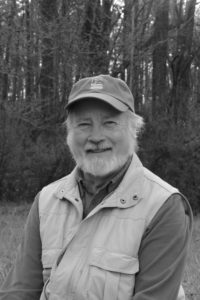 Bland Simpson was born at Duke Hospital in Durham, NC.
At UNC-Chapel Hill, Simpson was Freshman Class President (1966-67) before turning his attention to writing columns and working as Night Editor for the Daily Tar Heel.
Simpson, during 1967-68, lived as a custodian in the University Methodist Church and, with access to many a piano there, began writing songs; he made a hitch-hiking pilgrimage from NC. to Woodstock, NY, to see vaunted folksinger-songwriter Bob Dylan just before Christmas 1968, and a few months later, he got a music-publishing contract from Bob Dylan's manager's 4th Floor Music, moving to New York City in late-summer 1969, ultimately releasing Simpson, an album of original songs with Columbia Records, May 1971.
His musical, written with Jim Wann, Diamond Studs: The Life of Jesse James; the show (directed by John Haber, choreographed by Tony Award-winning artist Patricia Birch) ran ten sold-out performances at Chapel Hill's Ranch House (October 1974), was picked up by the New York non-profit Chelsea Theatre Center, and opened at the Chelsea Westside Theatre on West 43rd Street Off-Broadway in mid-January 1975 to universal acclaim and an eight-month run.
In December 1986, Bland Simpson joined The Red Clay Ramblers as the band's piano player and began years of extensive touring (North America, France, Denmark, the Middle East and North Africa) and further theatrical work. As a Red Clay Rambler, he contributed to the film scores of Sam Shepard's Far North (1988) and Silent Tongue. He also collaborated on the Ramblers' show Fool Moon, a three-time Broadway hit (1993, 1995, 1998-99) that won the Ramblers a share in the show's Special Tony Award (Gershwin Theatre, June 1999).
As Chair of the North Carolina Writers Conference, Simpson brought the annual meeting to his old hometown, Elizabeth City, in July 2002, and that month assumed directorship of UNC Chapel Hill's Creative Writing Program, which he led for six years, also chairing the Department of English & Comparative Literature from December 2007 till July 2008, a post he would hold again 2016-2017.
Bland Simpson received the North Carolina Award for Fine Arts (November 2005), was a Chapman Fellow at UNC's Institute for the Arts & Humanities (Fall 1998, Fall 2006), was named Kenan Distinguished Professor of English & Creative Writing at UNC Chapel Hill (July 2011), and received the John Tyler Caldwell Award for the Humanities (N.C. Humanities Council) in October 2017.
---
MEDIA

Buy this book from your local bookstore or Bookshop.org.
---
Watch Bland Simpson talk about his book, Two Captains from Carolina, on UNC-TV's NC Bookwatch, hosted by D.G. Martin:
Courtesy of UNC-TV.
---
Watch Bland Simpson share a song about Eastern Carolina on UNC-TV's NC Bookwatch, hosted by D.G. Martin:
Courtesy of UNC-TV.
---
LISTS
---