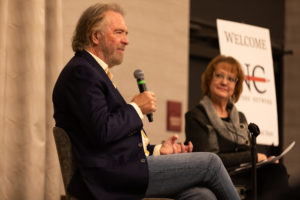 Charles Frazier was born in Asheville. He currently lives part of the year within sight of the building in Biltmore Village where he was born. Branches of his family settled in western North Carolina at least a couple of hundred years ago. He grew up in Andrews, NC, a town of about a thousand people more than two hours west of Asheville in the far, pointy tip of the state. A member of the state legislature once told Frazier, "I didn't even know there was any North Carolina two hours west of Asheville."
Frazier first visited Chapel Hill at fourteen, and after walking around campus for an hour, he decided UNC was the only place he would consider going to college. He graduated in 1973 and later acquired graduate degrees from Appalachian State and the University of South Carolina, which residents of that state insist upon calling "Carolina" no matter how often they're corrected.
After finishing course work and exams for the Ph.D, instead of rushing precipitously into his dissertation, he wrote and photographed a travel book for Sierra Club Books titled Adventuring in the Andes: Ecuador, Peru, Bolivia. In the wake of being informed that all his dissertation extensions had been used up and that he had only six months left, Frazier completed it just in the nick of time.
Eventually, under advisement from his wife, Katherine Beal Frazier, Ph.D., and Kaye Gibbons, novelist, he quit teaching in order to write fiction. His first novel, Cold Mountain, was published in 1997. Since then he has published Thirteen Moons, Nightwoods, and Varina, all of which were New York Times bestsellers and award winners.
Frazier's work has been translated into over three dozen languages, including Cherokee and has been recognized with the Sue Kaufman Prize of The American Academy of Arts and Letters, the National Book Award, the Chicago Tribune Heartland Prize, the Lillian Smith Award, the American Booksellers Book of the Year Award, the James Still Award from the Fellowship of Southern Writers, the Southern Book Award, The Sir Walter Raleigh Award for Fiction, the Thomas Wolfe Memorial Literary Award, and others. Frazier also received the North Carolina Award in the field of Literature, the highest civilian award bestowed by the state.
Director and screenwriter Anthony Minghella's Oscar-winning film adaptation of Cold Mountain was released in 2003. Composer Jennifer Higdon, winner of the Pulitzer Prize and multiple Grammy awards, and Grammy-nominated librettist Gene Scheer adapted Cold Mountain for the opera. At the 2016 International Opera Awards in London, Santa Fe Opera's premiere of Cold Mountain was named best World Premiere of 2015.
---
MEDIA

Buy this book from your local bookstore or Bookshop.org.
---
Watch Charles Frazier talk about his novel Varina on UNC-TV's NC Bookwatch, hosted by D.G. Martin:
Courtesy of UNC-TV.
---
Watch NC Literary Hall of Fame inductee Robert Morgan in conversation with Charles Frazier:
Courtesy of NC Bookwatch
---
LISTS
---