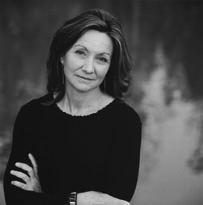 Devoted daughter, sister, mother, wife, writer, teacher, friend, dog lover, self-proclaimed homebody and nester, tender of gardens and baby goats, Jill McCorkle (b. 1958), juggler extraordinaire, has long distinguished herself as an empathetic chronicler of ordinary people with complicated, unsung lives.
A native of Lumberton, North Carolina, McCorkle was twenty-six years old when she made literary history with the simultaneous 1984 publication of her first two novels, The Cheer Leader and July 7th. As the inaugural author of newly launched Algonquin Books of Chapel Hill, she was hailed nationally by critics as a born storyteller. Her spirited slant on modern Southern mysteries and manners helped to define a changing New South and secure its significance on the national literary map. After that meteoric rise, she has produced four more celebrated novels, the most recent being Hieroglyphics and Life After Life, and four dazzling short-story collections filled with irresistibly titled tales such as "Your Husband Is Cheating on Us" and "It's a Funeral! RSVP!"
Beloved for writing big-hearted, character-driven books that embrace small-town Southern life with all its rowdy, funny, heart-breaking happenings, McCorkle leavens humor with cultural insightfulness and what she calls "the intersections between tragedy and comedy." For her "a happy ending is not everything works out just right and there is a big bow, it's more coming to a place where a person has a clear vision of his or her own life in a way that enables them to kind of throw down their crutches and walk."
A 1980 graduate of the University of North Carolina at Chapel Hill with Highest Honors in Creative Writing, she was mentored by distinguished faculty that included Louis D. Rubin Jr., founder of Algonquin Books, Max Steele, Doris Betts, and Lee Smith. She went on to complete her Masters in Writing from Hollins College in 1981.
Many awards followed, including the New England Booksellers Award, the John Dos Passos Prize for Excellence in Literature, and the North Carolina Award for Literature. Five of her books have been selected as New York Times "Notables," and her prize-winning short stories and essays have appeared in an array of magazines and journals, including Oxford American, Cosmopolitan, Southern Review, Garden & Gun, and The Atlantic Monthly.
She has taught fiction writing at Harvard, Tufts, Brandeis, Bennington College, UNC-Chapel Hill, North Carolina State University, and is a frequent instructor in the Sewanee Summer Writing Program. McCorkle observes, "I always tell my students, 'If you walk around with your eyes and ears open, you can't possibly live long enough to write all the novels you'll encounter.'"
What a joy for us readers that she practices what she preaches and that she honors North Carolina, as did Thomas Wolfe, by making it the locus of her imagination. "The source of my voice," she has written, "the voices that guide my writing life, are older than I am—the umbilical cord forever unwinding and yet tethered to and dependent on the constant pulse of a place called home."
---
MEDIA

Buy this book from your local bookstore or Bookshop.org.
---
Watch Jill McCorkle read her fiction at the 2013 Sewaanee Writers Conference:
Courtesy of the Sewanee Writers Conference.
---
Listen to Jill McCorkle give the Keynote Address at the North Carolina Writers' Network 2018 Spring Conference:
Courtesy of the NC Writers' Network.
---
Watch Jill McCorkle talk about some memorable moments:

Courtesy of the Orange County Literacy Council.
---
LISTS
Books
---