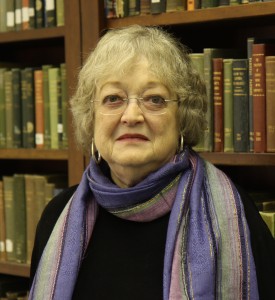 When introducing Betty Adcock (b. 1938) at poetry readings, moderators typically recite the titles of her six books; they specify the years in which she won her Pushcart Prizes, her Guggenheim fellowship, and her many other awards; they discuss her Texas origins and her teaching history. But many writers have published books, won prizes, lived in Texas, and taught at universities without giving us "a drawer of knives."
Betty Adcock does. Over and over, her poems offer the "instantly unforgettable" lines that enrich rather than deplete from rereading.
Adcock's unforgettable lines have an additional distinction: they come to us in a voice unmistakably her own. This originality—of thought and method—derives, in part, from her formative experiences in rural East Texas. "I'm not sure I intended to become a poet," she says. "I did mean to write poems, but that isn't quite the same thing as setting up as a poet. The latter was not an option I'd have dared to imagine back when things were beginning in spite of me. I was always an unlikely candidate."
Social conditions were equally inauspicious. "The South can claim any number of excellent women writers of fiction, early and late, but where are the accomplished southern women poets of any time prior to the 1980s? And East Texas had never produced a poet of either gender. So if you want to know what it's been like to be a Southern woman poet of my generation, the only answer I can give is that it has been lonely; becoming a poet in the way I did it is most of all lonely. That might not be the most interesting answer to the question, but it is the most important."
The self-possession one hears in Adcock's voice is hard-earned. Unlike most writers working today, she is essentially self-taught—no formal training, sustaining networks, graduate schools, summer conferences, residencies at writers' colonies. "Except for one class—with the wonderful Guy Owen—I have had no teachers," Adcock says. "I never spent time in wonderfully seedy bars or cafes with like-minded souls—some of whom may actually have published something!"
Betty Adcock was Writer in Residence at Meredith College in Raleigh, where she taught until 2006 and twice held the Mary Lynch Johnson Professorship. She is the author of six poetry collections and the recipient of two Pushcart Prizes, a Guggenheim Fellowship, and the North Carolina Medal for Literature, among many other honors and awards.
It's no coincidence that Adcock's description of craft parallels the creative process described by many jazz musicians. Don Adcock—her late husband of more than fifty years—played both classical and jazz flute.
"Controlled freedom, as in mainstream jazz, is what interests me," she explains. "I may use rhyme and a particular meter for several stanzas and then switch to something else entirely, in the same poem, for reasons that have to do with the way I am feeling both the sound and the subject. I don't analyze this. I do revise over and over, so this is not spontaneous improvisation—which the Beats showed can be pretty dreadful. I may do fifty or even a hundred drafts of a poem. But it's always 'riffing around,' varying possibilities, weaving around the structure."
---
MEDIA
Slantwise: Poems (LSU Press, 2008)
Buy this book from your local bookstore or www.Amazon.com.
---
Watch poets Betty Adcock, Jaki Shelton Green, and Shelby Stephenson discuss the many roads that led them to being inducted into the North Carolina Literary Hall of Fame on May 5, 2015, at the Durham County Library, Durham, NC:
Courtesy of Durham County Library and Jacar Press.
---
Click here to read James Applewhite's introduction for Betty Adcock, Sunday, October 12, 2014, at the Weymouth Center for Arts & Humanities in Southern Pines, NC.
Courtesy of James Applewhite.
---
Watch Sylvia Adcock read Betty Adcock's poem "Penumbra" at the North Carolina Literary Hall of Fame 2014 Induction Ceremony, October 12, 2014, Southern Pines, NC:
Courtesy of the North Carolina Writers' Network
---
Read this profile of Betty Adcock, written by Sam Stephenson, for The Paris Review.
---
Read this interview with Betty Adcock in Cerise Press.
---
LISTS
---