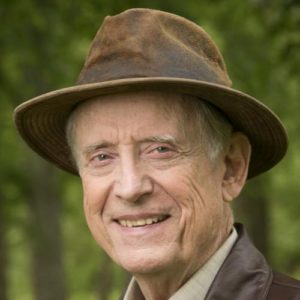 Duke University English Professor James W. Applewhite (b. 1935) was born in the Wilson County town of Stantonsburg (population just under 1,000), at the border of Greene County. A thoughtful child whose father was away at war, he contracted rheumatic fever at the age of six and had to spend the next year in bed reading children's books and comics and being read to by his "first literary influence," his school-teacher uncle, Almond Mercer, from Huckleberry Finn, The Odyssey, and The Arabian Nights.
Applewhite's Duke University Ph.D dissertation was on William Wordsworth, as is his only book-length prose work. In 2006, he told interviewer Katharine Walton, "As for Wordsworth's continuing influence [on me and my work]: like the water that fish swim in; assumed. Wordsworth brought the human quest for meaning down out of the mythological clouds and situated it in the landscape, in recognizable characters, traveling through space and time. Wordsworth brought a sense of purpose and divinity believably into the human journey. He brought the human subject face to face with time and mortality. He created hope out of greatness of imagination, but all within the realistic dimensions of space and time."
Poet Dave Smith describes Applewhite's work in the highly regarded Selected Poems (Duke University Press, 2005) this way: "It is rugged and refined, classical in decorum and local in idiom, deep in wisdom and clear as water in freshness. It is a compact, luminous etching of a singular imagination working to get down the way it was and is in this place on the planet."
In addition to the Jean Stein Award in Poetry and the North Carolina Award in Literature, Applewhite and his works have been honored by the following: the 1979 Associated Writing Programs' Contemporary Poetry Award; the 2006 Roanoke-Chowan Award for Poetry for Selected Poems, North Carolina Literary and Historical Association; 1996 Election to the Fellowship of Southern Writers; a Guggenheim Fellowship; a National Endowment for the Arts grant; a citation in Harold Bloom's Western Canon: The Books and School of the Ages (1994) and featured sections in V.S. Naipaul's A Turn in the South (1989) and Will Blythe's To Hate Like This Is to Be Happy Forever (2007); North Carolina Poetry Society Brockman-Campbell Awards in 1990 and 1998; and the 2001 Ragan-Rubin Award of the North Carolina English Teachers Association. Applewhite was also the 2007 Honoree of the North Carolina Writers Conference, meeting in Hillsborough.
---
MEDIA
A Diary of Altered Light (LSU Press, 2006):

Buy this book from your local bookseller through Bookshop.org or from Amazon.com.
---
James Applewhite reads from Cosmos at the 2014 NC Writers Conference:
(courtesy of Jeff Davis, Wordplay Radio)
---
LISTS
---