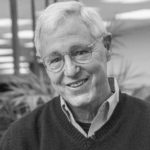 Best known as a poet, Anthony S. Abbott (1935-2020) once described himself as a "poet who happened to write a novel"—actually, later, two novels—in addition to his seven books of poetry and four books of literary criticism. But this list doesn't account for his further reach as a lecturer, workshop leader, and commentator.
Born in San Francisco, his family had moved to New York City before he was sent to boarding school at the Fay School in Massachusetts and later graduated from the Kent School in Connecticut. A 1957 graduate of Princeton, he went on to Harvard for a Ph.D. Although he started his teaching career elsewhere, he found a home when he and wife Susan moved South when he accepted a position at Davidson in 1964 to teach modern drama and American literature. In his thirty-seven years of teaching at Davidson College he won some of the college's highest awards, including the Hunter-Hamilton Love of Teaching Award and the Thomas Jefferson Award. He remains the Charles A. Dana Professor of English Emeritus.
Tony is a bridge builder, and through his service to the North Carolina Writers' Network and the North Carolina Poetry Society, among other groups, he brought writers of all styles and genres together.
His first book of poems, The Girl in the Yellow Raincoat, was nominated for a Pulitzer Prize. One of his more recent and innovative works, The Angel Dialogues, is a series of poems that he has performed as more of a mini-play with a partner, sometimes with music, drawing in lovers of both poetry and theater.
In 2008, Tony received the Irene Blair Honeycutt Award for Lifetime Achievement in the Literary Arts from Central Piedmont Community College. In addition, he has twice been honored by the NC Poetry Society in the Brockman-Campbell Competition: in 2012 as co-winner for If Words Could Save Us and in 2014, an honorable mention for The Angel Dialogues.
In 2015, Tony received the North Carolina Award for Literature, the highest civilian honor given by the state.
---
MEDIA

Buy this book from your local bookstore or Bookshop.org.
---
Watch Anthony S. Abbott talk about what it means to receive the NC Award for Literature, the state's highest civilian honor:
Courtesy of the N.C. Department of Natural and Cultural Resources.
---
Watch Anthony S. Abbott recite four poems at the 2012 North Carolina Poetry Society Annual Meeting:
Courtesy of the North Carolina Writers' Network
---
Watch Anthony S. Abbott read from The Angel Dialogues at the North Carolina Writers' Networkr 2014 Fall Conference:
Courtesy of the North Carolina Writers' Network
---
LISTS
---