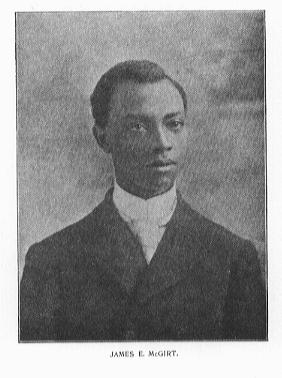 James Ephraim McGirt came from rural Robeson County, North Carolina, from an African-American farm family. He is remarkable for his determination in seeking a literary career during times when this option was not available for a young black man. His stable home environment was supportive, however, and his mother especially was an influence, quoting the Bible at length, and keeping her children apart from the surrounding community. McGirt began writing while he lived and attended school in Greensboro, writing poetry and earning his bachelor's degree at Bennett College in just three years. McGirt's first volume of poetry, Avenging the Maine, was published in 1899 by Edwards and Broughton of Raleigh. Aware of the shortcomings of his early verse, he apologized in the preface of this first book, explaining that his writing was done when he was tired from the day's work and "under very unfavorable circumstances." His later volumes of poetry were entitled, Some Simple Songs, For Your Sweet Sake, and The Triumphs of Ephraim. Moving to Philadelphia and unsatisfied with the response to his poetry, he founded McGirt's Magazine, an illlustrated monthly on art, science, literature, and other subjects. The magazine flourished for almost six years, but folded in 1909.
Although compared favorably to Charles Chesnutt, another Literary Hall of Fame inductee, McGirt finally gave up his literary career and became a successful businessman and real estate salesman. He never married, but returned to Greensboro and retained his love for writing in general and poetry in particular.
---
MEDIA
The Triumphs of Ephraim (University of Michigan, 1907):
Buy this book from Amazon.com.
---
Read James E. McGirt's Avenging the Maine, a drunken A.B., and other poems:
(courtesy of The Internet Archive)
---
LISTS
---