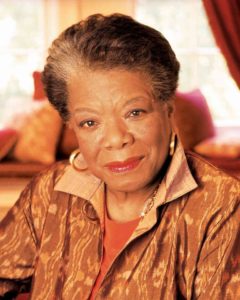 For all her achievement as a writer, Maya Angelou's greatest work of art may have been the remarkable life she led. Angelou (1928-2014) was the kind of author whose dust-jacket biography deserved as much acclaim as her written words: poet, memoirist, novelist, educator, dramatist, producer, actress, historian, filmmaker, and civil rights activist; friend and colleague of Malcolm X and Martin Luther King, Jr.; mentor and teacher to many all around the world. British-born journalist and author Gary Younge has said, "Probably more than almost any other writer alive, Angelou's life literally is her work."
One year after the publication of I Know Why the Caged Bird Sings, Dr. Angelou published her first collection of poetry, Just Give Me a Cool Drink of Water 'fore I Diiie, which was nominated for the Pulitzer Prize. Critic Carol Neubauer wrote, "Angelou turns her attention to the lives of black people in America from the time of slavery to the rebellious 1960s. Her themes deal broadly with the painful anguish suffered by blacks forced into submission, with guilt over accepting too much, and with protest and basic survival." Other critics praised the collection for its "moving blend of lyricism and harsh social observation."
A trailblazer in film and television, Dr. Angelou wrote the screenplay and composed the score for the 1972 film Georgia, Georgia. Her script, the first by an African-American woman ever to be filmed, was nominated for a Pulitzer Prize.
Dr. Angelou served on two presidential committees, was awarded the Presidential Medal of Arts in 2000, the Lincoln Medal in 2008, received three Grammy Awards, and held more than thirty honorary degrees. President Bill Clinton requested that she compose a poem to read at his inauguration in 1993. Dr. Angelou's reading of her poem "On the Pulse of the Morning" was broadcast live around the world. In November of 2013, the National Book Foundation presented Dr. Angelou with the 2013 Literarian Award for Outstanding Service to the American Literary Community.
Wake Forest University brought Dr. Angelou to North Carolina in 1982, naming her the first Reynolds Professor of American Studies, a position she held until her death. She called Winston-Salem home for more than thirty years.
---
MEDIA
I Know Why the Caged Bird Sings (Random House Digital, Inc., 2009)
Buy this book from your local bookstore or at Amazon.com.
---
Maya Angelou recites her poem, "And Still I Rise."
(Courtesy of mohitbahi)
---
Maya Angelou recites her poem, "On the Pulse of Morning," which she delivered at the inauguration of President Bill Clinton on January 20, 1993:
(Courtesy of the William J. Clinton Presidential Library)
---
Ed Wilson, Professor Emeritus of English and Provost Emeritus of Wake Forest University, talks about Maya Angelou's time in San Francisco and how she came by her name.
(Courtesy of the North Carolina Writers' Network.)
---
LISTS
---