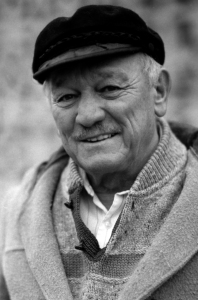 Ronald H. Bayes (1932-2021) was the Emeritus Distinguished Professor of Literature and Creative Writing and Writer-in-Residence at St. Andrews University in Laurinburg.
Ron was a relentless and tireless writer who was passionately committed to his craft and who, over the decades, produced his own mini-library of books, poems, and articles. He was a Woodrow Wilson National Fellow in American Literature. He won the Roanoke-Chowan Prize for Poetry. He received a North Carolina Arts Council Fellowship for creative writing. In 1989, he received the North Carolina Award for Literature, the state's highest civilian award, presented by the governor, and in 2002 the North Carolina Writers' Network established its Lifetime Achievement Award for Literature, named it after Ronald H. Bayes, and presented the inaugural award to him. He is an honorary lifetime member of the Oregon Poetry Association and of the North Carolina Poetry Council. The North Carolina Senate honored him with a resolution of thanks for the contributions of the St. Andrews Press, the St. Andrews Review, and the Writers' Forum to the fine arts of this state.
Ron Bayes did not consider life a spectator sport, and he did not live his creative life in isolation from the world. Not diminishing his own creative production or dedication to classroom teaching, he founded, directed, and nurtured the St. Andrews Press, the St. Andrews Review, Cairn: The New St. Andrews Review, Gravity Hill, the student literary journal, and the Writers' Forum.
When the St. Andrews Alumni Council presented Ron with the Distinguished Merit Award, the council noted that his achievements, as well as his lifelong commitment to literature and to his alumni, stand as a testimony to, and a model for, a life well-lived. Ron Bayes was a fan of writers and writing, with a special interest in supporting and mentoring new and little-known writers (and we do well to remind ourselves that the word "fan" is just an abbreviation of the word "fanatic," a person possessed of great zeal for a cause). And that is just what Ron brought to his world, to everyone in it, and to all that he did–great zeal. His life might be best described in two lines by William Butler Yeats: "Think where man's glory most begins and ends, / and say my glory was I had such friends."
---
MEDIA
Watch North Carolina's seventh poet laureate, Joseph Bathanti, read Ronald H. Bayes' poem "For a Friend Who Walked Girders."
Courtesy of the North Carolina Writers' Network.
---
Watch Ronald H. Bayes explain his poem, "The Casketmaker."
Courtesy of St. Andrews University.
---
Watch Ronald H. Bayes read his poem, "Going South."
Courtesy of Andrew Reynolds.
---
Read his obituary.
---
LISTS
---