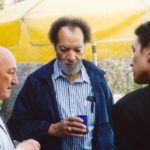 Producer Joanne Gabbin wrote, "African-American poetry is both furious and flowering…a poetry of grace and rage, of identity and struggle, combining beauty and political activism." Her description applies to the poetry of Gerald Barrax (1933-2019), whose work was marked by tenderness and anger, by reverie and irony, by castigation and celebration. Born in Alabama, Gerald Barrax moved to Pittsburgh when he was ten. He served four years in the Air Force and received degrees from Duquesne University and the University of Pittsburgh. In 1969, he joined the faculty at North Carolina Central University then moved to North Carolina State University, where he was an esteemed professor in the Master of Fine Arts program. He retired from NC State in 1997.
Since 1970, Barrax published five volumes of poetry as well as work in numerous journals and anthologies. For a number of years he served as editor of Obsidian, a major contemporary journal, and as poetry editor for Callaloo.
Of African, Indian, and Dutch ancestry, Barrax often addressed his black heritage and with the race-based injustices he had seen and/or experienced. His entry in the African-American Registry reads: "Gerald Barrax: a poet with humanity in mind!" Marked by originality, introspection, and intellectual engagement with a wide range of subjects, his work drew from the best traditions of poetry writing. He shaped and reshaped the images, metaphors, and ideas of his poems until they satisfied his stringent requirements. His work was honored by numerous awards, including a Ford Foundation Fellowship, the Sam Ragan Award, and the Raleigh Medal of Arts. In 2000, he was the honoree of the North Carolina Writers' Conference.
He was nominated for the Pulitzer Prize as well as the National Book Award for his poetry collection, Leaning Against the Sun, in 1992.
Barrax was awarded the North Carolina Literary Award, the state's highest civilian honor, in 2009.
Father of five and grandfather of two, Barrax lived in Raleigh with his wife, Joan.
---
MEDIA
From a Person Sitting in Darkness (LSU Press, 1998):

Buy the book at your local bookstore through Bookshop.org
---
Watch a documentary short featuring Gerald Barrax, courtesy of the North Carolina Department of Cultural Resources, in honor of his 2009 North Carolina Award for Literature:

(courtesy of the N.C. Department of Natural and Cultural Resources)
---
Read more about Gerald Barrax in the Encyclopedia of Alabama.
---
LISTS